Hello and welcome to this week's (slightly delayed) WHHS!
First of all, welcome to December - Laura's favourite time of the year- my girlfriend is not short of festive cheer and it certainly rubs off on everyone we know. Secret Santa prezzies are bought, party dresses are chosen - bring on the Office christmas Party!!!
In real news have you seen the publicity around WeTopia?
WeTopia
, is a new Facebook game that allows users to turn points into monetary donations for charities that help families and kids worldwide. Players build a virtual WeTopia village and receive points for acts such as building a school or planting a tree. The virtual app, launched Tuesday, it is a free-to-play social game available in 20 countries around the world!!! Players collect points, or "joy," for charities, including
Save the Children
,
Action for Healthy Kids
and
Alliance for a Healthier Generation
!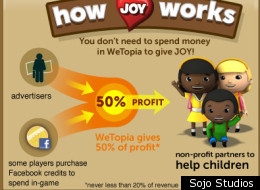 The game, is created by
Sojo Studios
- they make social games in which players can directly support social improvement projects around the world. One of our favourite TV personalities is a backer for the project and we saw the segment she did to highligt the launch! The CEO of the game has this to say "The inspiration in what we're doing is allowing people to give back in a giving way and an uplifting way, and not as a one time gift," Sojo Studios will also give 50 percent of its profit to its nonprofit partners -- no less than 20 percent of its revenue -with money streaming in through advertisers on Facebook and through players that choose to purchase Facebook credits to play WeTopia.
Now we aren't personally Facebook game fans - but this has changed our mind! We are all for giving as long as we know it makes the impact we intended!
As I am half Scottish I always have an eye on the news up there, and in between announcements for yet more snow, I see that The Equality Network is calling for equal marriage supporters to have their say in the government's public consultation on extending marriage rights to gay couples before Friday's deadline.
Respondents do not have to be Scottish to express their opinion on the issue, and the group has also called for views from other countries in the UK and the world. They say the decision taken by the government will have a important effect on how Scotland is perceived abroad, and overseas views should be taken into account. So far, the group has received around 15,000 messages through their website, but they are keen to boost the volume and diversity of responses in support of equal marriage rights.
To have your say, head to their website HERE!!!
Now, anyone related to a Scottish person, or who has ever been to Scotland knows they aren't exactly the tallest of people - rather like Tom Cruise! I saw an article that made me smile- it seems like it doesn't matter how famous you are sometimes there will be places in the world who are clueless as to who you are
!

When
Tom Cruise
ar

rived in India over the weekend to a throng of screaming fans, it was assumed that his superstar power drew the crowd.
It turns out a large chunk of those "fans" were actually paid actors with no clue who Tom Cruise was!
In fact, the 200-and-odd people gathered there didn't even know who he was and they couldn't care less. They had been hired at the rate of Rs 150, or $3 per person approximately, by a model coordinator to do the same!
"Tom kaun? I don't know who he is or what he does. We were told to come here by 1pm today and wait for a foreign VIP to come out of the airport gate and scream and shout when he came. None of us know who Tom is. There was a buffet lunch also for us and we were paid Rs 150 for this job today. We do this for television shows and other such events where crowds are required," said one of the junior artistes at the airport, who was hired as an excited Tom fan.''
Hahahahahaha :)
I'm a Tom fan - wait I should hold on to be paid for that ;)
Monica & Cristina - Congrats!
We also saw some DOMA news that made us smile - we know that we won't be able to marry and move to the States any time soon but when it comes to marriage rights the more headlines DOMA makes the better. That's why when we saw the news about Monica & Cristina's victory to stay in the US together we wanted to share it.
For the first time since the Department of Homeland Security's (DHS) November 17 announcement that a national "working group" had begun reviewing all cases currently pending in immigration courts, Immigration & Customs Enforcement (ICE) has closed a deportation case involving a married same-sex couple. See similar stories HERE!
In news from around the world Hillary Clinton has delivered a groundbreaking speech to a United Nations summit in Geneva following the US' declaration that its agencies will challenge the criminalisation of gay acts and LGBT identity overseas. The Secretary of State said gay, lesbian, bisexual and transgender people were "human beings born free and bestowed equality and dignity, who have a right to claim that, which is now one of the remaining human rights challenges of our time". Hillary contiuned: "Some seem to believe it is a western phenomenon and therefore people outside the west have grounds to reject it. Well, in reality gay people are born into and belong to every society in the world! They are all ages, all races, all faiths, they are doctors and teachers, farmers and bankers, soldiers and athletes. Whether we know it, whether we acknowledge it, they are our family, our friends and our neighbours." Always knew that lady spoke sense!
Britain Prime Minister also had his say he wants "Britain to be a global beacon for reform of gay and lesbian rights." We strongly agree with that. Now is the time for him to demonstrate that commitment in practise by strengthening the government's response in line with that of the United Sates."
The Kaleidoscope Trust has called on the government to establish a Foreign Office unit to coordinate the defence of gay rights as a foreign policy priority, contribute financially to the international effort, and ensure Britain's embassies and overseas commissions play a part in combating the criminalisation of homosexuality.
And talking about having your say - what about UK XFactor - where's your vote going? Marcus, Little Mix or Amelia? We're torn but I guess that way we can't be too disappointed! I can't believe it's the final already - that means Christmas really
is
nearly here!
To finish I thought I would share a photo taken a year ago - we arrived from our year in Australia to a snow covered Idaho and had an AMAZING 3 weeks together skiing and being very festive, we even stayed in a wood cabin! This photo was taken the day before I left Idaho (without Laura :(- who was staying to have Christmas with her family) and returned to the UK. It's crazy how much can change in a year!
The Boise family- and yes it was THAT cold- and yes THAT is snow you see by the stairs!
Bye for now, Sarah (& Laura) xoxo