SO Thanksmas comes but once a year and our second one took place on this past Saturday night. And it was AMAZING!
To start at the beginning, Thanksmas is a 'made up' holiday, an opportunity to celebrate Thanksgiving here in the UK with a mix of Christmas traditions included so that we get to share both holidays with a select group of friends.
Just like last year
(see here)
, the evening was a mix of FANTASTIC food, GREAT guests, games and DELICIOUS dessert with more than a little alcohol consumed. What was different was that Laura had a sous chef in the the form of Lauren, from
2 brides to 2 mummies
, and we had invited some new guests.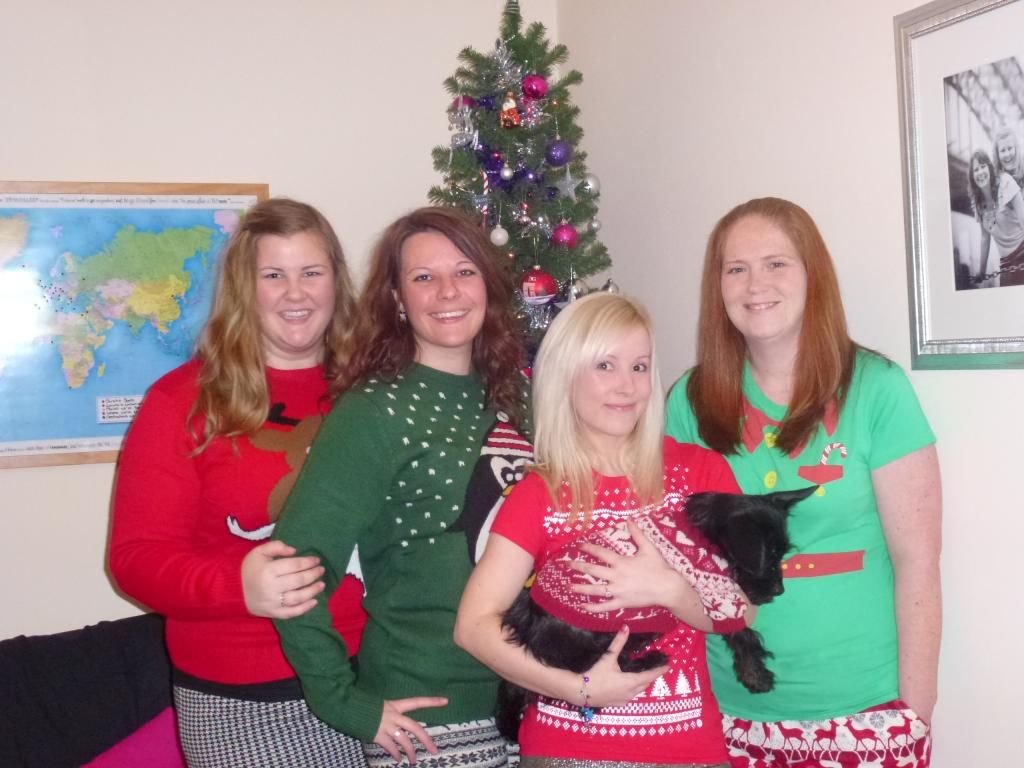 The fam!
Lauren and Sarah arrived on Thanksmas Eve laden with American candy, bags of diet coke, freshly baked savoury muffins and PUMPKIN PIE! We spent the evening indulging in pizza and catching up till almost 2am!
On the day, and filled with excitement (and because some rowers were being yelled at to 'TURN AROUND, THE FOG IS TOO BAD!') we all bounced out of bed bright and relatively early. First order of the day was to warm the savoury pumpkin muffins S&L brought, add some baked beans and voila 'Thanksmas Breakfast'! Definitely a must for the day next year!
As femme-couples, we don't have defined roles - though society tends to think that one must be more 'manly'. In fact, I think it's true of a lot of couples today: they are made up of two individuals, not 'one' who will cook and clean and 'one' who will work and chop wood (or whatever) - and that is definitely true in our case. However in the case of Thanksmas, roles quickly became defined amongst the four of us. The L's (Laura and Lauren) cooked/baked and the Sarahs stayed way out the way - we may have mixed a few things but other than the potatoes it was all on the L's! (and an amazing job it was too, but more on that later). The Sarah's were packed off to the shops to get a few last bits and then got to do the decorating, table laying and furniture moving. It worked out well.
As the weather outside was frightful (see what we did there :) ) Sarah decided to meet the rest of the guests at the station and provide a taxi service to the flat. It meant a slightly delayed start but it also meant everyone turned up a lot drier than if they walked!
The guests were: Sarah & Lauren, Fiona (Sarah's sister) & Ben - her boyfriend, Alison - Laura's old school friend over here studying, Pete - Sarah's old work colleague (and gay man version of Laura) and US! Oh and Willow, the smallest and furriest of our guests, but also modelling a very festive jumper!
As we seated everyone in their allocated chair, poured drinks and got everyone introduced, it was time to start the serving - that way Laura didn't have to be lost to the kitchen (as last year). Her panic of not having enough food was quickly put to rest as the dishes were past around and the plates reached their limit! Damn those Americans and their amazing food. It's ALL so good!
The only problem was, those who hadn't come last year hadn't paid attention to our 'dress comfortably and if possible wear trousers that stretch' - and they were having to do some mid-meal adjusting! In true American style though, Alison led the way, claiming Laura's green bean casserole was the best she'd EVER had!!! A compliment indeed!
So the menu in all it's glory: green bean casserole, turkey, cornbread, roast potatoes, carrots & broccoli, candied yams, stuffing and gravy!
After dinner was cleared away, it was time to be thankful - so we went around the table each giving thanks - a serious thanks followed by a silly thanks! Laura kicked it off and if you saw our last post
(HERE)
you'll know what her serious thanks included. Her silly thanks was for the one and only Boris Johnson - for making London cool again!!! Sarah's was.....we think (bearing in mind it was 2 days ago and alcohol was consumed) for dog clothes, so we could dress our dog up to be as cute as Willow and make everyone smile!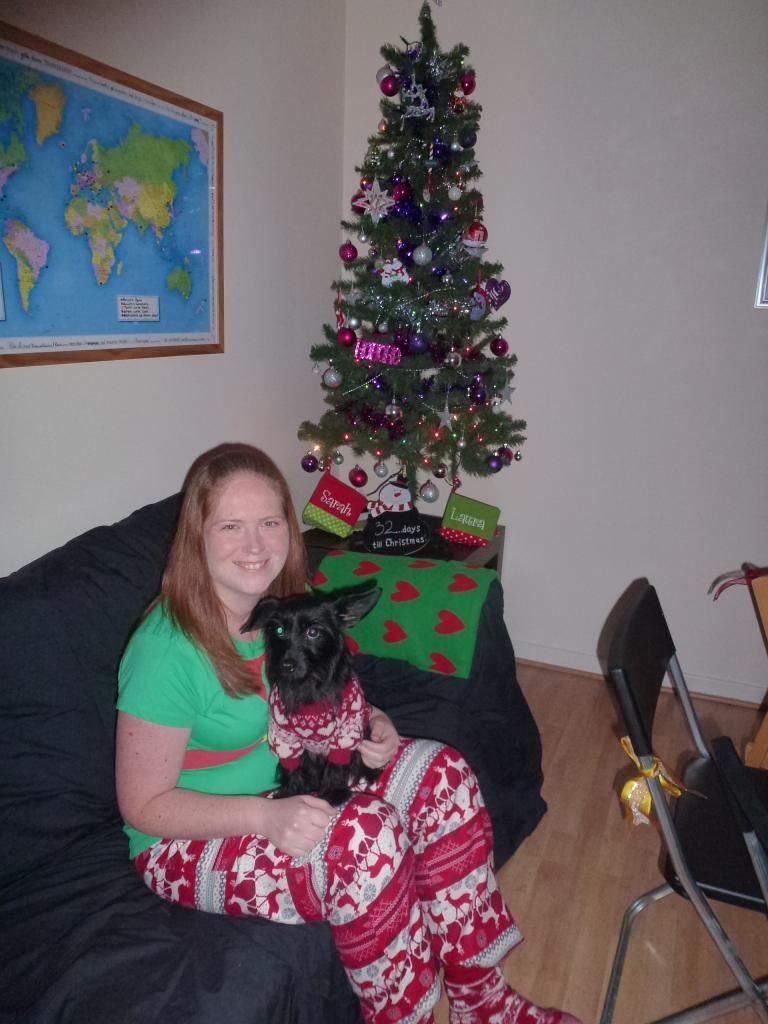 Just awww!!!
Then to Apples to Apples - a game that when described sounds so terrible and boring, yet to play is hilarious and informative and allows insight into people's minds that even alcohol doesn't provide!
Willow in her sweater playing A2A, & they say the cards you win describe you - Sarah on left, Laura on right haha!
After what seemed like no time at all but had actually been nearly 4 hours, we dared to serve dessert. We say dared as last year dessert proved one step too far for most guests who ended up taking it home :) This year though we had Pumpkin Pie (courtesy of Lauren) and Bread and Butter Pudding (courtesy of Fiona & Ben) - served with custard or double cream, or both!!
Both desserts were DELICIOUS! Having never had Pumpkin Pie (what kind of American is Laura - right?!) it was a revelation - seriously so good! So good!
In fact, all the food went down so well EVERYONE left with food parcels!
So there we have it - our second annual Thanksmas was arguably better than the first - and we look forward to celebrating it together for years to come!